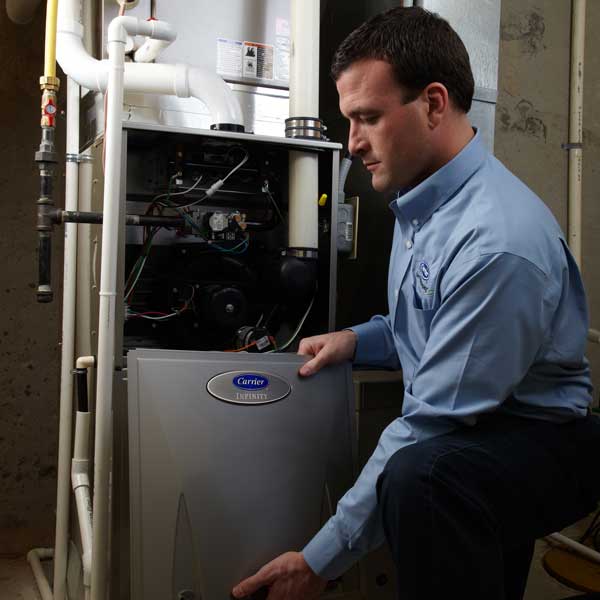 Furnace Repair Service You Can Trust
When your furnace is experiencing problems, you want a fast, furnace repair service you can trust. Sarosky Heating and Air Conditioning has been in business since 1985 with a solid reputation for our honesty and quality. We offer scheduled furnace service maintenance and 24/7 emergency repair services to meet the needs of our customers. It is never too late or too early to call our team when you need a furnace repair service right away.
Call us when you need heat repair
Over the years, we have customized our service to meet the needs of our customers. We understand that no one wants to wait to get the heating repairs they need for their home or business. Heating problems can occur for a plethora of reasons. In some cases, all you need is to check the thermostat, pilot light or circuit breaker to find the problem. A clogged air filter may be causing issues and it just needs replacement. But for those more serious furnace repair service issues, you need a professional who has the knowledge to diagnose what is causing your heating problem. At Sarosky Heating and Air Conditioning, we can quickly troubleshoot your HVAC issue and provide the heat repair you need.
Quality Heating Repair Services
When you call Sarosky Heating and Air Conditioning for a heating repair, you can expect knowledgeable, friendly service every time. We offer heating repair services for a wide variety of heating systems and brands. With our decades of experience, you can trust that we can fix your heating issue, big or small. In many cases, we can fix the problem with your heating system in one service call, regardless of the type of heating repair you need.
Gas furnace repair service
Natural gas furnaces are the most popular option of heating systems. If you need a gas furnace repair in the Lehigh Valley, call our team at Sarosky Heating and Air Conditioning first. We use the latest technology and quality replacement components to ensure your gas furnace is repaired right the first time. We carefully evaluate all gas furnaces and components for safety and efficiency when completing heating repairs.
Emergency furnace repair
When you need gas or electric furnace repairs immediately, call us for fast emergency furnace repair service. We have furnace technicians ready to provide heating repairs at any time, day or night. You can expect our technicians to arrive on-time, ready to diagnose and fix your heating problem to your satisfaction. We are one of the most trusted furnace contractors in the area, available for 24 hour furnace repairs when you need us.
Dependable Heater Repair
Winters can be cold in Pennsylvania and you need a dependable heat repair company when your HVAC system is not working correctly. At the first sign of heater problems, call our experienced team at Sarosky Heating and Air Conditioning. We understand how frustrating heating issues can be and we can send one of our pros out to perform a quick diagnostic on your heating system. In most cases, we can fix the problem when we arrive, keeping you warm during the coldest days of the year.
24 Hour Furnace Repair
When you need emergency heating repair in the Lehigh Valley, call the local furnace repair experts you can trust. Whether you need a gas heater repair or other types of home heating repairs, our technicians can come to your home any time, 24/7, 365-days a year. Sarosky Heating and Air Conditioning has earned a reputation as one of the best and most reliable furnace repair companies in the area.